About AML
AML is a cancer that affects a type of white blood cell in the bone marrow called a myeloblast. Healthy myeloblasts grow into different kinds of white blood cells.
In people with AML, the myeloblasts are immature and abnormal. This means they do not grow or work like they should. Sometimes, red blood cells and platelets are abnormal too.
All of these abnormal blood cells (called blasts) can build up in the body. They crowd out healthy white blood cells, red blood cells, and platelets. When there are too many blasts and not enough healthy cells, the symptoms of AML begin to occur.
Newly diagnosed

You have not had treatment for AML. In the past, you may have had treatment for another disease of the bone marrow, such as myelodysplastic syndrome (MDS).

Relapsed

You were symptom free for a time after initial treatment, but the signs and symptoms of AML have returned.

Refractory

Your AML did not respond to initial treatment.
Types of remission
As you know, the goal of many cancer treatments is to put people with cancer into remission. With AML and other blood cancers, there are a few types of remission. Two important ones to know about are:
Complete remission (CR)

No signs of cancer are seen, and bone marrow and blood counts are normal.

Complete remission with partial hematological recovery (CRh)

No signs of cancer are seen, but certain blood counts have not completely returned to normal.
Targeted treatment
Mutations are changes in the DNA (deoxyribonucleic acid) of a cell. Mutations can play a role in the development of AML. That's why testing for mutations helps your healthcare team understand which AML treatments may work for you.
TIBSOVO® is a type of treatment called targeted therapy. It works on cells with a mutation called an IDH1 mutation. An IDH1 mutation can cause AML because it keeps myeloblasts from becoming healthy white blood cells. Because TIBSOVO targets this mutation, it can be used to treat adults with AML with an IDH1 mutation. About 1 in 10 people with AML have an IDH1 mutation.
Because TIBSOVO is a targeted therapy, it works differently from traditional chemotherapy. Chemotherapy kills cells that divide quickly, including blast cells. Chemotherapy can affect many types of cells in the body and is typically given by infusion, usually in the hospital.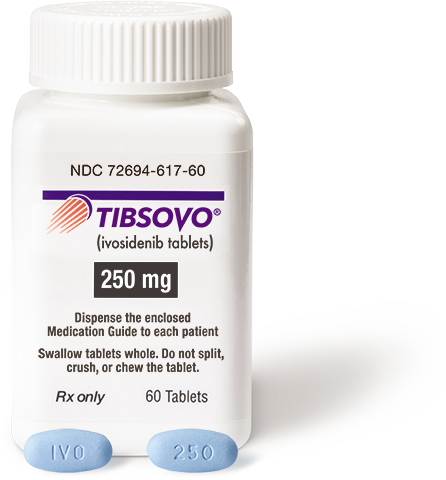 TIBSOVO is an oral treatment that can help blast cells grow into healthy blood cells by inhibiting IDH1.